A Unique Tool Exclusively for NACM Connect Members.
Data Contributors also gain access to Account Monitoring, our Credit Reference Tool and Portfolio Risk Analysis.
What is A/R Data Contribution?
A/R Data contribution is a credit reporting tool offered by NACM Connect which allows your company to report on your customers' payment habits. It is the reporting of your company's full A/R information, which is then reflected on the business credit reports of your customers.
Data files include information about your customers' pay habits. This information is uploaded to the NACM National Trade Credit Report database, shared by 20 NACM affiliates. More importantly, the information is not shared outside of the NACM database, making this tool unique in that it is only for NACM members built by NACM members. The NACM National Trade Credit Reports are available exclusively to members of NACM. 
 Account Monitoring System allows you to set the criteria that you want to be notified about; aging buckets, public records, collections, etc.
Benefits of Data Contribution
Rewards Good Customers, Supports the Credit Community and U.S. Commerce
Rewards your good paying customers and gives an incentive to your slower paying customers to pay you more promptly.
Saves Your Staff Time and Your Company Money
Industry credit groups—After an initial time investment of approximately one hour, you will never have to manually submit data to NACM Connect except for Request for Names and Alert Information.
Reduces Your Company's DSO
Creditors are more likely to pay promptly if they know their trade experiences are being reported.
Portfolio Scoring Free to Trade Data Contributors
The Portfolio Risk Analysis tool will segment and identify high risk accounts within your customer base for review. Also benchmarks your customers risk and exposure compared to your industry. Download a sample report.
Account Monitoring System allows you to set the criteria that you want to be notified about; aging buckets, public records, collections, etc.
Members can subscribe to the Account Monitor Service (AMS) by submitting specific criteria to NACM Connect.
Members can receive email notifications and log into the NTCR website to view their custom list.
Earns You Discounts on Credit Reports
A/R data contributors receive a substantial discount on NACM Connect credit reporting contracts.
Contributes to the Strength of Your Group and Industry
Data contributors have privileged access to use NACM Connect web-based Credit Reference, Portfolio Scoring and Account Monitor services.
CCE Recertification
Data contribution gives you .25 points per year, max of .75 if your company contributes their AR file to a participating NACM affiliate. You can also earn 1 point per year on the roadmap towards CCE or CBF.
Costs Your Company $0
Reporting data is easy, confidential, safe, secure and at no charge. A great way to support NACM Connect.
Participation Guidelines
The information needed to get started is included in the list below:
BUSINESS NAME
ADDRESS LINE 1
ADDRESS LINE 2
CITY
ST (State Code)
ZIP CODE
PHONE NUMBER
OPEN DATE MY
REPORT DATE
LAST SALE DATE MY
BALANCE $
CURRENT $
01-30 DAYS PAST DUE $
31-60 DAYS PAST DUE $
61-90 DAYS PAST DUE $
91/+ DAYS PAST DUE $
TERMS
COMMENT (NACM Code)
AVG DAYS TO PAY
CONTACT NAME
FUTURES $
FEDERAL TAX ID
COUNTRY
Our data contribution experts are available to work with your IT department to set up an automatic data transmission of this information directly to NACM Connect each month, so once you have set it up initially (which usually takes less than an hour) you are all done. We accept transmissions via FTP, or you can email us an excel or csv spreadsheets.
Put $50 in Your Pocket
Each new A/R data contributor who begins electronic submissions will receive a $50 American Express gift card.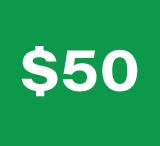 Each new A/R data contributor who begins electronic submissions will receive a $50 American Express gift card.
For more information on data contribution
Please contact your Group Administrator at 800-935 NACM or email
Info@nacmconnect.org.
"My association with NACM has extended over the past 25 years and I've found their services to be invaluable when making well informed risk management decisions. NACM brings together a forum of like-minded credit professionals willing to share their experiences and collaborate on a multitude of business topics. It is this "ease of operation" approach which has allowed me to make quick, pragmatic credit decisions that have a direct correlation to my bottom-line. I believe any company entering into today's business environment without partnering with NACM will find themselves at a severe disadvantage."
"NACM Connect always provides me with tools and knowledge that I can put to use in my Credit career. The seminars offer relaxed and not forced networking opportunities. The networking has allowed me to form business relationships with other credit professionals. We share ideas on how to resolve the same struggles we experience in a more effective and efficient manner. I rely on all educational opportunities at NACM Connect to provide me with innovative methods to bring back to the office. I value the relationships that are formed and it is evident that they are most advantageous for my career."
"By participating in the roundtable discussions my staff is seeing how other companies handle the same day to day issues that we do and not only could they pick up some advice on how to possibly do something better, but also feel good when we can advise someone else how to improve something that we do differently. I am very pleased with the follow up and organization of the credit professionals in our area and feel they are doing many things that the area has not had in several years."
"NACM Connect is my go-to resource for obtaining credit information on my customers, as well as monitoring them. Sharing information with my customers' common suppliers through my Industry Credit Group is the very best means of getting information to help me make real-time credit decisions. Other educational and networking events, including the social outings, keep me in touch with credit managers throughout the region."